29th September 2017
Retinal Consults Before Cataract Surgery
Cataract surgery is a remarkable, life changing procedure. After evaluating, observing and managing many thousands of these patients, I continue to be amazed at the difference lens extraction and replacement makes in people's lives. If the retina is healthy and surgery is uneventful, excellent visual outcomes are pretty much expected. However, when retinal health is compromised, full return of vision is unlikely. So knowing when to warn patients of potentially decreased visual function is important.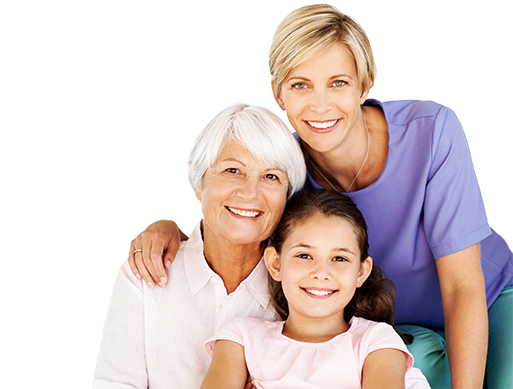 Managing Expectations
In my experience, cataract surgery patient expectations have increased over the last decade. It used to be that people wanted to see better than they did with cataracts. The new paradigm is that many want to see better than they did before cataracts—often without corrective eyewear. It's true that we have excellent lens replacement technologies that can greatly reduce dependence on glasses, including:
Toric monofocal IOLs
Multifocal IOLs
Extended-range-of-focus IOLs
Toric extended-range-of-focus IOLs
However, we must carefully manage expectations, especially when retinal health is less than optimal.
When cataract patients are considering surgery and have concurrent retinal pathology, it is wise to advise them of two things:
Their visual improvement will likely be limited
Presbyopia-correcting IOLs will probably not be an option
Thorough Case History
When determining if retinal problems need further evaluation, a thorough case history that answers these questions is a good place to start.
Was the vision reduction gradual or sudden?
Is vision blurred or distorted?
Are areas of the visual field missing?
Pre-op Evaluation
Careful assessment of visual acuity is important. But measuring potential acuity is even more helpful in determining if retinal conditions warrant evaluation by a specialist. Use whatever instrument you have, be that a laser interferometer, PAM, pinhole or super pinhole. Dense central posterior sub-capsular cataracts can reduce potential acuity, but most cataracts do not. As you progress through the exam, ask yourself two questions:
Is the grade of cataract formation similar in each eye?
Does the degree of cataract formation and macular health match potential acuity measurements?
If potential acuity is inconsistent with the cataract and/or macular health, a retinal consultation before cataract surgery may be warranted. However, some conditions may not require a retinal consultation. For example, patients with a history of dry macular degeneration or longstanding amblyopia don't usually require pre-operative consults with a retinal specialist.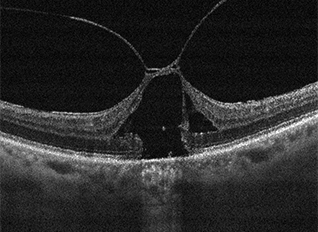 Risky Conditions
Many of the more serious retinal conditions routinely seen in optometric practices may require retinal exams before cataract surgery. A fluorescein angiography or retinal imaging with interpretation by a retinal specialist may be needed to rule out underlying retinal pathology. And prophylactic treatment prior to cataract surgery might also be warranted. If there is concern that an existing retinal condition has the potential to worsen with cataract surgery, it should prompt consideration of a retinal consultation. While this article cannot identify every risky condition that can require a pre-operative retinal consult, they can be divided into two categories:
Central Retinal Problems

Diabetic retinopathy—with clinically significant macular edema regardless of best corrected and potential visual acuity
Exudative age-related macular degeneration
Choroidal neovascularization—classical or occult presentation
Macular edema
Macular pucker—determined to be visually significant
Macular cyst
Macular hole—any partial thickness or full thickness with duration of vision loss < 1 year
Serous detachment of the macula
Central serous chorioretinopathy
Pigment epithelial detachment—if newer in onset
Vitreomacular traction

Peripheral retinal hole

Peripheral Retina Problems

Retinal detachment
Retinal tears not previously treated—round or horseshoe
Operculated retinal breaks—unless old and self-sealed
Atrophic retinal holes
Lattice degeneration—especially high myopes with long axial length
Bullous retinoschisis
Proliferative diabetic retinopathy
Choroidal melanoma
Cystic retinal tufts
Retinal dialysis
Retinal vein occlusion—with ischemia and/or macular edema
Diagnostic Imaging
High resolution ophthalmic imaging technology such as OCT and SD-OCT have greatly enhanced our ability to visualize the retina, particularly the macula. We can now identify subtle and even hidden (occult) macular changes not appreciated on direct or indirect funduscopic examination. Before OCT, vitreomacular traction (VMT) would be nearly undetectable. Even routine cataract surgery on such patients could incite a macular hole.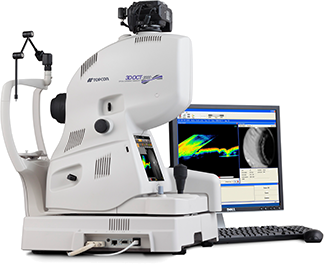 OCT is not a replacement for retinal consults on cases such as VMT, but it is an important piece of additional information for review with the retina specialist. There is a saying that if you predict a problem ahead of time, you are seen as the sharp expert. But if you only recognize the problem after it has occurred, you are likely to be blamed for causing it.
Significant Retinal Compromise
Even in cases of significant retinal compromise, cataract surgery with standard monofocal or toric monofocal lens implants may be appropriate. In a population-based study, Monestam and Wachtmeister concluded in part that "Most low-vision patients with significant cataract (emphasis added) benefit from surgery, both subjectively by increased ability to perform visually demanding tasks as well as by an improved visual acuity."1 It seems logical that if we can give low-vision patients a refractive endpoint near emmetropia, we may enhance the function of low vision devices and improve their quality of life.
Conclusion
Good evaluation and possible treatment of underlying retinal conditions gives cataract surgery patients the best opportunity to attain maximum vision with realistic expectations. When a retinal consult is needed, let the specialist know your patient wishes to proceed with cataract extraction, pending their evaluation. Also, communicate your findings and those of the retinal specialist with the cataract surgery center. This is extremely beneficial for your patient and the surgical team. Patients will appreciate your cautious, thorough approach in making their cataract surgery outcomes the best they can be.
Questions
If you ever have a question about the possible need for a retinal consultation before cataract surgery, feel free to contact any of our optometric physicians. We are always happy to help.
work cited
Monestam, Eva, Wachtmeister, Lillemor The impact of cataract surgery on low vision patients. ACTA Ophthalmologica Scandinavia 1997: 75: 569-576